After a brief introduction and summary from the Chairman and Secretary, highlighting in particular:
The acquisition of the lease for the Luggie. This has a lot of opportunity with regards to
water quality and spawning for the whole system.
Catch returns. Following the amnesty for late returns an extra 110 returns were submitted
adding a further 135 migratories to the total. This raises the catch for the 2012 season to
407, with a 70% return rate.
Accounts – Income £14175, Expenditure £10183, Cash on hand £18154
Elections – Alan Atkins was re-elected to the Committee.
Proposals
First Proposal – The permit prices for next season should be raised to: New Members £70, Existing £50, Concession £40.
Result – After an initial split vote there was discussion for and against. Eventually an alternative
proposal was agreed where fees would be fixed for 2 years. This proposal was then passed by a
majority vote.
Second Proposal – Junior tickets (16 and under) to be free by postal application.
Result – Passed by large majority vote.
Third Proposal – No fishing from the falls at Bishop Mill.
Result – Time for discussion given. Eventually passed by majority vote.
Forth Proposal – Every association member to attend at least one work party
Result – Split vote. Due to issues with enforcement and physical ability, it was decided that this would be purely voluntary and that those who were in favour should aim to attend at least one day this season.
Fifth Proposal – The rule regarding the release of all brown trout to be abolished.
Result – Not passed (heavy majority against).
Sixth Proposal – The rule regarding the release of all migratories in October to be abolished.
Result – Not passed (did not receive a single vote).
Seventh Proposal – Total number of migratories that can be dispatched in a day to be put back to one (was two per day).
Result – Passed by majority vote.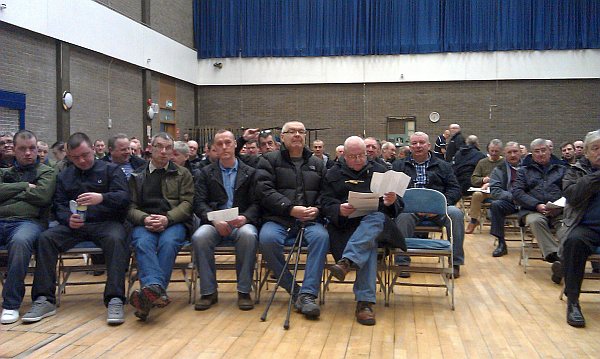 Many thanks to everyone who attended – it was a very enjoyable AGM where we managed to get a lot discussed.